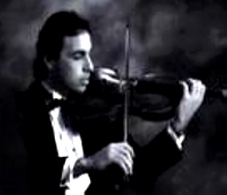 Adam Crane originally from Brooklyn, New York, has enjoyed a successful and versatile musical career. Adam received his first exposure to the viola at age eleven, while attending a magnet school. Soon after, General Mills Foundation awarded him a scholarship that enabled him to attend the Mannes College of Music Pre-College Division in New York City.
Later, Adam went on to earn a Bachelor of Music degree; as a double major in Viola Performance and Music Composition; a Master of Music degree in Viola Performance; and a Post-Graduate Professional Studies Certificate, from the Old Mannes College of Music — an awesome conservatory. His viola mentors include Paul Doktor, Sol Greitzer, John Graham, Yitzak Schotten, and Heidi Castleman. Adam studied composition with Peter Pindar Stearns, a pupil of Martinu.
Adam has performed with the Atlanta Ballet Orchestra, Atlanta Pops Orchestra, Nashville Symphony, Nashville Chamber Orchestra, Dayton Philharmonic, West Virginia Symphony, Alabama Symphony, Columbus Symphony, Chattanooga Symphony, Macon Symphony, Charleston Symphony, Augusta Symphony, Greenville Symphony, Chamber Orchestra of Tennessee, Gwinnett Ballet Orchestra, Auburn Symphony, Lexington Philharmonic, Lexington Opera Orchestra, Tupelo Symphony, and numerous others.
Mr. Crane has held conductor/violin and viola faculty positions with the following universities: Morehead State University, Washington and Lee University, Union University, Lambeth University, and Shawnee State University.
Adam has appeared as a guest on PBS, NPR and FOX interviews, both radio and television, and has recorded archival performances with Musical Heritage Society.
Mr. Crane has served the following orchestras as conductor and music director: Southern Ohio Light Opera, B'Nai Brith Repertory Theatre, and the Sinfonia Strings of the Jackson Symphony. Mr. Crane was a founding member, of the Portsmouth Community Orchestra, now in its 20th season. For nearly a decade, Adam's responsibilities included preparing musical needs, as well as overseeing all technical logistics for each 5 concert season. This includes July 4th Hometown Celebrations, that comprised adding a 100 voice choir, fireworks, and community fundraising events.
Further, the NBC series "America IS", a multi-cultural celebration of American heritage, featured Mr. Crane as conductor. Adam has served as a clinician at hundreds of schools in many cities and presently holds an active private teaching studio with over 50 private students, including violin classes for adults who play for the love of it. Mr. Crane also is a professional audition coach, and has performed with orchestras and chamber music ensembles as a featured soloist. Numerous musical organizations seek out Mr. Crane as clinician, adjudicator and arts consultant.
Rio Grande University invited Adam as the music education specialist/consultant, in order to supervise the revision of the Ohio, K-12 music curriculum, blending music with academic subjects. – a project of the Ohio Arts Council. 
As a composer, Mr. Crane has been commissioned by the Roanoke Symphony and several ensembles. Adam's music compositions include two symphonies and many chamber music compositions highlighting the viola as a beautifully unique solo voice. He also has created various programs, developing music appreciation for young children and their parents. Among them — 'Artsounds', 'Bach to Basics', 'Me, Mom and Mozart', and 'Performances for Peace'.
As a chamber musician, Mr. Crane has performed as violist with the Roanoke String Quartet, the Zaslovsky String Trio; which performed at Gracie Mansion (NYC) for the Mayor; the Alaria Chamber Ensemble, the Rachmeal Weinstock String Quartet, the Niles String Quartet, the Lyra String Quartet and the Sonoklect Contemporary Music Ensemble, featuring the works of George Crumb. With the International Music Program Quintet, he performed extensively throughout Europe, including in Leipzig's famed Gewandhaus.
Additionally, he has authored an "Audition Mastery Guide", featured in the International Musician, and was the winner of Shar Music's Kreutzer Etude Edition Contest, creating a spirited entry titled "Niff T. Shift's Agility Training" – a guide to violin shifting.