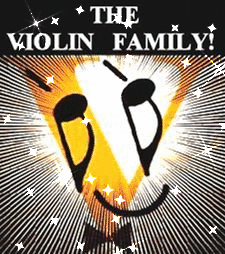 THE VIOLIN FAMILY, (16th century – present) originated in Italy
The names of the Violin family members are variations on the word viola, which is derived from the Latin word vitula, meaning a stringed instrument.
The

Viol

in,

Viol

a,

Viol

oncello, and Bass

Viol

in are the official members of the

Viol

in family.
The abbreviations 'cello and bass have become the standard names in use today for the low strings. Modern basses still retain sloped-shoulders, due to the effect that Viols had on the evolution of the instrument. Violins, violas and cellos all have rounded shoulders.