Fundamental Rule: One complete measure in Common-Time = 4 beats
In basic mathematics, you know that numbers can be added, subtracted, multiplied and divided. Notes of different values combine in order to complete a measure.
Each note has a value. In music terminology, they are called Note Values.
A Whole Note equals 4 beats, and completes a common-time measure.
A Half Note completes half of a measure.
A Quarter Note fills one quarter of the measure.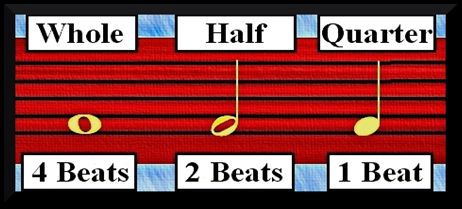 Are you wondering how a 3-beat note is written?
To create a 3-beat note, more note-material parts are required.
Let's explore Parts #5 and #6: TIES and DOTS