I am glad that I asked Cal the Rhythm Calculator to teach Rhythm Notation. You learned a lot!
As promised, I have created an assortment of fun ways to review the information that you learned in the Rhythm Laboratory. 
At this stage, everyone has reached an important milestone. You have been introduced to Rhythm Notation!
Acquiring rhythm know-how away from your instrument, makes it easier to apply it to your performances.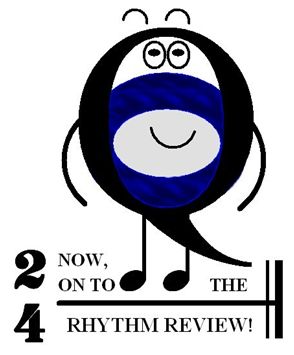 After the review, exercises await, so be prepared to Clap and Count! 
By now, I am pretty sure that you noticed my feet are quarter notes.
In my picture, I feel perfectly at home within a   2 – 4 measure.

Practicing rhythm exercises power-up your rhythm skills, and require focus.