CLASS EXERCISE

:

THE MAJOR SCALE WALK
The Goal is to walk the Major Scale Steps. [W-W-1/2-W-W-W-1/2] 
In addition to walking the scale steps in rhythm, the plan is to say the steps. After this accomplishment, the challenge will be to say note names in key. 
Move all equipment aside and create an unobstructed open space. No instruments are needed.
Teachers, please ask students to stand side by side near the perimeter of the open space, and to face forward.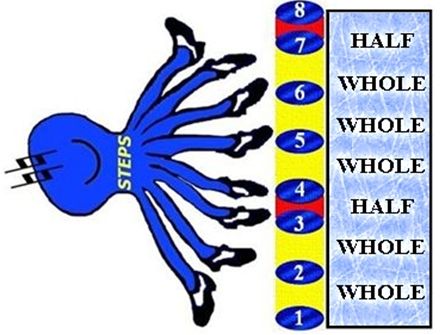 Now, get ready to step in time.
Use your best imagination and now pretend that where you are standing at the TONIC.

Step the correct step and say either Whole-Step or Half-Step on each beat. 
Set the Metronome to 60 BPM.    Here we go!   1-2-3-4

Congratulations! You just walked the steps of the Major Scale.
You have arrived at Scale-Degree 8 — the Tonic.
This Tonic is one octave higher than where you started.
Now, please turn around and get ready to walk and say note names.