Dynamic March — Variation #1
Music composed in the march-style, often include lively and repetitive rhythmic patterns.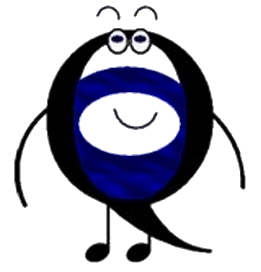 Combining dotted-eighth notes and sixteenth notes, create bouncy and march-style rhythm patterns.

Although this combined rhythm pattern may be performed by alternating bow stroke directions, traditionally the pattern is linked together in the same direction, one bow direction per beat.
Linking notes together, cause the changes in bow direction to line up with each beat, which increases beat emphasis and ensemble clarity.
LINKED BOWING EXERCISE
Perform the rhythm below on all strings.
It is tradition, to stop the bow slightly, before each 16th note.
When learning rhythm, you learned vertical-line notation.
 Slashes show the beginning of each beat, at a glance.

Musicians write bowing symbols in the music, visually highlighting the beats and bow directions.
When performing Dynamic March Variation #1, sub-divide and link the bow clearly.