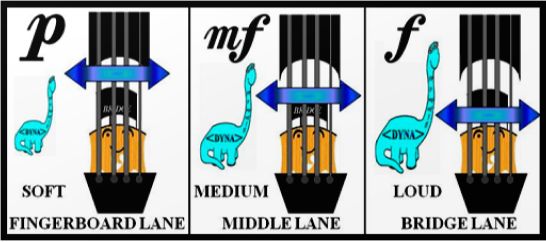 Performing near the frog at the Lower Bow-Segment, Sounds Louder. 
Performing near the tip at the Upper Bow-Segment, Sounds Softer.    
In addition to the String Lane and the Bow-Segment you are bowing, applying more leveraged weight onto the strings increases the volume.
Composers use dynamic word instructions to designate which parts are not just to be played at a specific dynamic, but also to clearly label the section as the primary melody.
The Italian word Soli, which is plural for solo, means the section is the featured music part.
Soli passages are performed as the main melody. Solo, means just one player performs the passage.
When performing your instrument's part, blend with your section and observe all dynamic instructions. Whether the music is loud or soft, follow the conductor's direction, remain steady and listen actively.
Rehearse your instrument's part individually and practice creating dynamic contrast by applying excellent bowing technique.
Dynamic March details ahead.