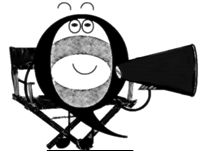 The reason I am sitting in a director's chair is to bring your attention to Directing Your Bow-Hand Into Action!
Everyone knows about bow-hand tasks, and now it is time to learn how to CAST your hand onto the bow.
While bowing, each finger has a specific role to play and shared bow-hand tasks to accomplish.
The letters in the word

C

A

S

T

will help you to remember how to approach and hold the bow properly.


Good job! You are now ready to learn how to CAST your Bow-Hand.


Center — Anchor — Set — Tilt
Center — Anchor — Set — Tilt