Parts of the Bow and Their Functions
The way in which the bow is held and applied to the strings is directly related to the way the bow is constructed and has evolved.
Centuries of trial and error have gone into the development of bows that we use today.
The evolution of the bow is an excellent display of common sense responses to the increasing demands of music written for string instruments.
Whew! I was sharing the tale of how music clefs originated with another class, so I set my music staff carpet to accelerando and arrived presto! Thanks for inviting me, Q!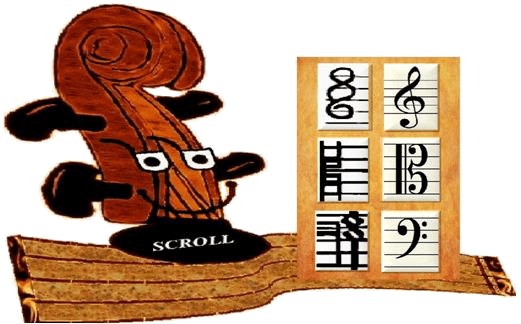 You floated by just in time!
Let's begin now and learn about:

Most often the Bow's Stick is made of Pernambuco, a hard wood from the region in northern Brazil with the same name. Pernambuco is one of the tightest grain woods on earth. The density of the wood makes it strong and resonant, which is perfect for string instrument bows.
Bows are also made from composites of carbon and fiberglass fibers. Many bows designed for students are made from fiberglass, since they are extremely durable.
The modern day bow is quite different from Baroque bows, which were lighter and more flexible. The arch of the bow also has changed in order to match the demand of the intensity of music in different eras.
Bow-making requires patience and a lot of practice. The bow's stick is carved and then slowly heated with steam, so that it can be curved.  The curving and weighting of the bow's stick and balance created, is an art form in its own sense.
The better the stick is made, the better the bow's performance versatility. Bow-makers earn their reputations by entering their finest bows in competitions held world-wide. The stick is the bow's "back-bone" and gives strength and support to the instrument's tone.