CLEFS AND PITCH LOCATION

In this Notation Layer, you will learn the three main clefs in use today.
Each clef derived from earlier clef versions, when letters were placed at the beginning of the music staff.
(read Scroll's Clef Origin Tale)
Depending on the music's register, instruments can be called upon to read music in different clefs.
Most often, each instrument utilizes a primary clef. (Click the clefs below and learn note locations)
Violin — TREBLE CLEF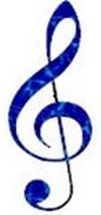 Viola — ALTO CLEF

Cello and Bass — BASS CLEF