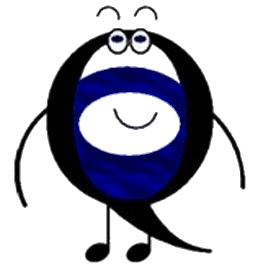 Finger Position and Intensity
I am pleased that everyone has reached the stage of finger placement left hand techniques. 
Once you gain experience performing D major scale notes, you will be ready to play melodies, orchestra compositions and exercises.

Different notes are created on the strings by shortening the amount of vibrating string. The string area from the fingertip to the bridge is the resonating string segment. The string area from the string nut to the fingertip is the segment that is not vibrating.

Finger intensity, must be firm enough to create the note and at the same time, loose enough to lift from the string and prepare again. Often, beginning students apply more finger intensity than needed in order to create notes on the strings. Be strong and remain agile.

I am standing on my head, representing the arc motion that your fingertip makes while performing  notes on the strings.
While performing, never grasp the instrument with your left hand.

Your left hand and fingers perform string note location and finger combination tasks only.

Always remember to secure proper playing-position and to focus on creating a relaxed left hand set-up.

Now, let's learn important Hand Position principles.