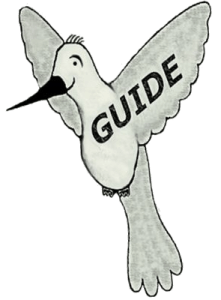 Hello! I am GUIDE, the Hummingbird.
Q asked me to fly over to the Quest and offer Shifting guidance.
Hummingbirds can fly frontwards and backwards!
I will teach you important left hand position principles, which allow you to glide your hand to higher notes and back down again.
String players need to move the left hand and travel to different string regions.
These string regions are called POSITIONS.
So far, all of the D Major notes that you learned have been in 1st Position. Since the distances are large on the Bass, it is necessary to relocate your hand, making it possible to reach higher pitches.
Get ready to guide your hand and learn the Bass notes on G.