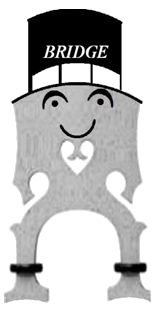 Hello Everyone! I am Bridge.
Q asked me to join the Quest's teaching team so that I can share with you what I know about String-Instrument Bridges.
As you learned, Bridges help to make things possible. So, I am here to bring to you my Instrument Bridge know-how.
As you can see, my body is a Stand-Up-Bass Bridge.
You may be curious about my top hat and may have noticed my stylish ankle bracelets. 
My eyes may even look somewhat familiar to your teacher.
Please join me on the next page.

I promise to tell you all about them.